Welcome to the Wonderful Wonder World Wiki
This wiki is your guide to everything related to Quinrose's Heart no Kuni no Alice series.
Anyone can edit the 457 existing articles and create more on this wiki.
News
6/1/2019
Otomate announces two new games, Spade no Kuni no Alice ~Wonderful White World~ and Spade no Kuni no Alice ~Wonderful Black World~
8/7/2018
English subtitles for the Heart no Kuni no Alice Musical Revival have been released
7/1/2018
The English patch for Anniversary no Kuni no Alice has been completed and released
5/4/2018
The English subtitles for Boris and Nightmare's Musical Revival endings have been completed
4/10/2018
English subtitles for the HnKnA Musical Revival are announced as being in the works
25/09/2015
Art Move Corporation, Quinrose's parent company, officially suspended business. Due to this, English publishing companies are no longer able to release localized media.
(More...)
Main Characters
Featured Article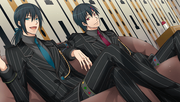 Dee and Dum are the twin gatekeepers of the Hatter territory. Their nickname is the Bloody Twins. They also have the ability to turn into adults.
Dee and Dum have very similar appearances, and if not for their different eye colors- Dee has blue eyes and Dum has red eyes- would be impossible to tell apart in child form if they were to dress alike and speak alike. As they are not identical twins, however, their eye color is one of the ways to tell them apart. In child form, they have short black hair and uniforms that are near mirror images of each other, except that Dee's is in blue and Dum's is red and the chain on the front of the uniforms is identical. In adult form, Dee wears his hair longer and tied back with a blue ribbon while Dum's hair is shorter, black and red barrettes holding back his bangs on one side.(more...)
Poll
Who is your favorite romance option?
Poll
Which territory do you want most to live in?
Poll
Do you want to live in the circus/prison?
Community content is available under
CC-BY-SA
unless otherwise noted.