Welcome to the Wonderful Wonder World Wiki
This wiki is your guide to everything related to Quinrose's Heart no Kuni no Alice series.
Anyone can edit the 441 existing articles and create more on this wiki.
News
8/7/2018
English subtitles for the Heart no Kuni no Alice Musical Revival have been released
7/1/2018
The English patch for Anniversary no Kuni no Alice has been completed and released
5/4/2018
The English subtitles for Boris and Nightmare's Musical Revival endings have been completed
4/10/2018
English subtitles for the HnKnA Musical Revival are announced as being in the works
25/09/2015
Art Move Corporation, Quinrose's parent company, officially suspended business. Due to this, English publishing companies are no longer able to release localized media.
(More...)
Main Characters
Featured Article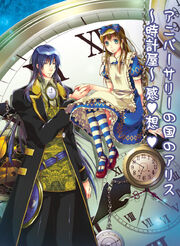 Anniversary no Kuni no Alice: Tokeiya (アニバーサリーの国のアリス~時計屋) is a side story to Anniversary no Kuni no Alice focused on Alice and Julius.
Alice, having found herself in Wonderland and unable to return home, has been staying at the Castle of Hearts. Dealing with Peter and Ace isn't easy, but she's getting used to it, until Peter's constant showering of affection and insults about the other people set her off, to which she leaves. Julius gets a surprise when Alice shows up and tells him she's run away from home and needs a place to stay. So begins their life together, in a one-room work space with only one bed. Ace's comments that they act like an old married couple don't make things easier, and even Vivaldi and Gowland find teasing them fun. When their already complicated relationship is strained by a succession of surprising revelations, one last intereference could make or break things. And Alice's vial is slowly filling...(more...)
Poll
Who is your favorite romance option?
Poll
Which territory do you want most to live in?
Poll
Do you want to live in the circus/prison?