Omochabako no Kuni no Alice ~Wonderful Wonder World ( おもちゃ箱の国のアリス~Wonderful Wonder World~) is a fandisc that was released in 2011. The game was originally going to be on PC, but was instead released on the PSP. Toybox has two stories - one is a parody of Quinrose's first game, Wizard and the Master, and the other is an original story set in Wonderland. There are 26 different story arcs.
Plot
Wizard and the Master Parody
In this scenario Alice already lives in the world where 'Wizard and the Master' takes place.
Original Story
In this story, something happens in Alice's place of stay which results in her being unable to live there anymore.
Characters
Endings
In Omochabako no Kuni no Alice, there are 28 different endings. There's an ending for each territory and each character in the game. But Blood has two endings and Joker has three. The other endings are Bad Hatter End, Gowland and Julius End, Hatter End, Julius and Ace End, Mermaid End, Rose Garden End 1 & 2 and Zoo End.
Opening Movie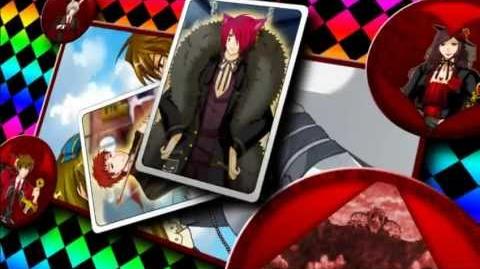 Music
Opening Theme
Ending Theme
Gallery
Trivia
This is the first game in the Wonder Wonder World series to be released on PSP. All previous games have been released on PC.
Aileen from Arabians Lost ~Engagement on the Desert~ appears in the game.